Time Moving & Storage is one of the oldest and largest commercial relocation companies in the New York City area.
Time Moving & Storage was established on July 29, 1968. Time started with one truck working out of the garage of one of the owner's homes. Time quickly established itself as a force in the commercial moving industry. Time purchased its first warehouse in 1970 and presently owns three warehouse locations in New York and New Jersey. Time is a licensed mover in New York and New Jersey. Time Movers is one of the largest commercial moving companies in New York City.
Time Moving & Storage is a leading provider of relocation and storage solutions to the New York City business community. Time's ability to provide the most advanced relocation and storage services with the most advanced technology available has made Time Moving & Storage a leader in the industry. Time's advances with project management, computerized inventory controls, online ordering and certified document destruction services is second to none in the industry. Our clients, includes many Fortune 500 companies and firms of all sizes across all industries, have come to rely on our ability to provide a superior service with the flexibility to react to their requests on short notice.
Time Moving & Storage is managed and run by two of the most experienced leaders in the commercial moving industry. With over 90 years of combined experience they offer a prospective unparalleled in our industry.
Time Project Managers are the onsite management team that is involved in every phase of the services we perform. Our Project Managers are your eyes, ears and voice to oversee the planning, implementation and completion of any relocation. Out Project management team are experienced, suit and tie professionals that are onsite regardless of the day or hour involved to assure the highest quality of services and to make the necessary decisions to deal with any changes or problems that may arise during a move.
With an average length of employment of over 8 years our staff is well seasoned professionals that offer our customers a unique and quality service. How does time maintain such a high level of service so consistently? Because we are a commercial moving and storage company, our business remains constant all year long. We are not subject to the seasonal fluctuations that many movers have because of their reliance on the residential moving business.
With a relocation staff of 100 men, a warehouse staff of 25 men, a fleet of 25 vehicles and three warehouse locations Time Moving and Storage has the resources to provide a superior relocation service.
Adequate labor and equipment is an essential part of being able to perform multiple major relocation at one time but all the manpower and equipment will not substitute for the
management necessary to implement, oversee and manage the relocation. Time Movers has the experience and depth in management with a Project Management Team of seasoned professional available 24 hours a day 7 days a week.
As a result of the diversity of our customer base, we can offer our customers quite a variety of specialized services.
• Office Relocation
• Office Furniture Storage
• Furniture Management
• Office Furniture Installations & Re-Configurations
• Furniture Liquidations
• Office Clean-Outs
• Document Shredding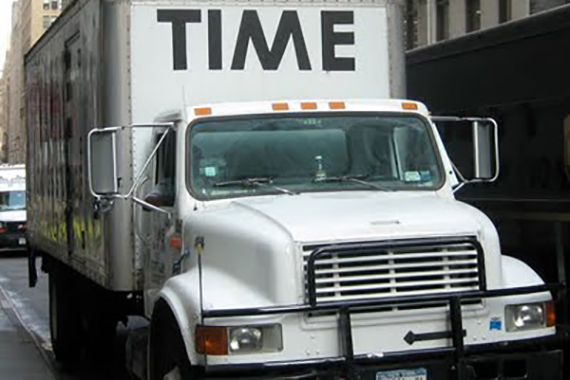 We can customize our services to meet your specific needs.
Call Time Moving & Storage today so we can assist you with your upcoming office move.
Time Moving & Storage will guarantee adequate manpower, equipment and storage space to perform all moving and storage services on an as needed basis.