BUSINESS RELOCATION IN NEW YORK CITY
We are one of the largest commercial relocation companies in the tri-state area.
Our clients in New York City and Manhattan, including many Fortune 500 companies have come to rely on our superior service and flexibility to respond to their requests on short notice. We can customize our services to meet our clients' specific needs. Time Moving and Storage goes into great detail in how we plan, implement and complete your relocation. Before starting a relocation project, we will coordinate a detailed plan to ensure the relocation process runs smoothly.
Commercial relocation process
Time Movers maintains an office staff of 12, a relocation staff of 100 men and a fleet of over 25 vehicles. Because of this we can offer your firm the flexibility you will require to meet any scheduling need or adjust for changes.
Time Moving & Storage is equipped with an extensive inventory of all the necessary equipment to perform relocations. In the event that we require additional equipment on a job our warehouse staff is available 24 hours a day to deliver any equipment necessary to complete a move. Time also maintains 4 full time mechanics that are on call to service our fleet of over 50 vehicles. In the event of a break down our mechanic will come to a job site to make the necessary repairs. If the truck cannot be repaired a replacement vehicle will be sent to replace it.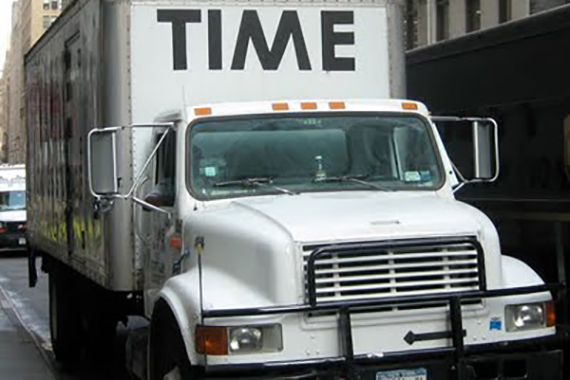 We can customize our services to meet your specific needs.
Call Time Moving & Storage today so we can assist you with your upcoming office move.
Time's experienced staff can warehouse and deliver your new furniture. We perform services for most of the major furniture dealers in New York. Our men are experienced with the handling of all major furniture manufacturers. Knoll, Steelcase, Hayworth, GO, Meridian, Kimbal, Gunlock, Bernhardt to name a few.
Time Moving & Storage offers state of the art record storage service with a Bar Code inventory control system. This system offers a full range of services with daily pick up and delivery of your records, emergency deliveries within four hours, customized reports and invoicing, destruction and inventory control.
For furniture and equipment, Time can assist you with asset management. Our inventory system will keep detailed information concerning all aspects of your furniture.
Time Movers can prepare a detailed computerized inventory of all furniture and equipment located in your present offices. 
The inventories will include:
• Item Description
• Manufacturer
• Size
• Color
• Material
• Finish 
Time Movers can help you control each asset whether it be onsite or in numerous offices or warehouse locations. Each item is bar-coded and entered into a database with a complete description of the item and its location. The database is updated each time an asset is moved or disposed of. The database can print a detailed list of all the items to be moved for each person. Our data base is also Auto Cad compatible so your floor plans can be automatically updated.
Your financial staff will be able to use this Asset Tracking System for a depreciation schedule that will be more comprehensive. 
Time can assist you with the disposal of your excess furniture in the following manners:
• TIME will contact used furniture dealers to purchase your excess inventory
• If the inventory cannot be sold, TIME will contact charities willing to accept tax-deductible donations.
• Finally, after all other options have been exhausted, TIME will assist in dumping the inventory. 
Time Moving & Storage owns and operates one of the nations largest and most experienced Library moving companies, Compass Library Relocation and Consulting Service. We have moved over 500 Libraries with collections ranging from 1000 to 3,000,000 volumes.
Time Movers has moved many fine art collections including the Metropolitan Museum of Art, The IBM Corporate Collection, and The Bear Stearns Corporate Collection. When moving fine art Time employees use Aluminum Security Bins for a safe and secure move.
With today's technological advances each office has a computer system that needs to be handled by experienced moving professionals. Time Movers has relocated many firms where the relocation of the computer system was the largest and most important aspect of the relocation. The largest computer relocation handled by Time Movers was the relocation of over 4000 pieces of computer equipment for Bear Stearns. Included with this relocation was the main computer room which was over 45,000 square feet. Time's staff will wrap each individual component. Once a component is wrapped it will be placed into a computer bin for transportation. Wires, cables and other small related computer items if not handled properly may get lost or damaged during a move. Time recognizes potential problems and has developed computer bags so all cables and related items can be placed in these bags then attached to the computer. This insures their safe arrival at the new location.
We can customize our services to meet your specific needs.
Call Time Moving & Storage today so we can assist you with your upcoming office move.
Time Moving & Storage will guarantee adequate manpower, equipment and storage space to perform all moving and storage services on an as needed basis.