NEW YORK CITY DOCUMENT SHREDDING SERVICES
Give us a call to get a quote and make an appointment
When your company or organization is moving it is a good time to eliminate all of the business records and files your firm no longer needs to retain by purging and shredding the documents.
Time Moving & Storage provides secure onsite document destruction services for your confidential and sensitive information. We can help your firm, organization or practice protect the privacy of your company, clients, patients and employees. Our state of the art mobile shredders exceed any legal requirements for the proper destruction of your documents. Our File Destruction Services conform to all rules and regulation of State and Federal privacy laws.
File Purge & Document Destruction Service
Our file purge and clean-out program makes it easy for you and your staff to review your office files to determine if they can be discarded at your own pace. Even when you are relocating your office you still need to perform the normal duties necessary in the operation of your business. Our program lets you purge files over time. We will provide our security bins which are on wheels which makes it easy to move them around your office. As your staff goes through your files they can deposit the documents that are no longer needed in our locked containers. We can provide and amount of bins you require. Then as bins are filled we will come to your office to empty and shred the documents and return the bins for re-use. This process will continue until you are finished with your file purge.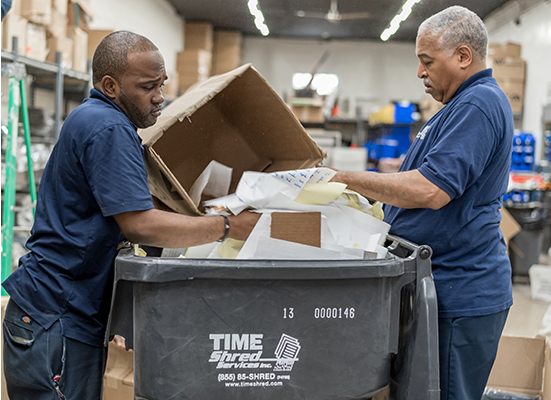 Ongoing Paper Shredding Program
After the move it will be a good time to implement an ongoing document destruction program. Anytime a piece of paper is being disposed of in your office it needs to be shredded. Half of all documents in your office have some piece of information on them that privacy regulations require they be shredded. It is a best business practice to destroy every document to be compliant and not make a mistake that leads to a data breach. We will supply our locked containers that stay in your office for continual use. Just discard all documents in one of these security containers. We will be to your office on a regular schedule to empty the containers and destroy the files. Your schedule can be daily, weekly, bi-weekly or monthly. Custom schedules are also available.
One-Time On-Site Shredding
Even when you company is not moving you may need to purge files because they are old, no longer needed or you need to make space in your office. Our one-time service is on-demand document destruction that lets you call to have business records shredded anytime you would like to have it done. Call us once or a few times a year it's up to you.
HOW THE PAPER SHREDDING PROCESS WORKS:
If you are relocating your office you are probably storing some old computers that you didn't know what to do with but now have to address. The hard drives in those decommissioned computers are still storing data. To stop any of that information from getting into the wrong hands the hard drives have to be removed and physically destroyed so the data can never be accessed again. Time Moving will shred or crush your hard drives and dispose of the computer hard ware in an environmentally approved manner. We will also provide you with a Certificate of Destruction for your records.
We provide, Document Shredding, Shredding, Paper Shredding, Document Destruction, Data Destruction, File Destruction, Information Destruction, Secure Shredding, Certified Shredding, File Shredding, Record Destruction, Onsite Shredding and Mobile Shredding Services. Give Time Moving & Storage a call today to get a quote right away.
We can customize our services to meet your specific needs.
Call Time Moving & Storage today so we can assist you with your upcoming office move.
Time Moving & Storage will guarantee adequate manpower, equipment and storage space to perform all moving and storage services on an as needed basis.