FURNITURE LIQUIDATION AND DISPOSAL
Furniture disposition & disposal - office clean outs
For companies planning to relocate, downsize, do a restack or upgrade their existing office furniture, our office furniture specialists are knowledgeable with the dis-assembly, removal and environmentally responsible disposal of all types and brands of excess office furniture.
We would be happy to send one of our office clean-out experts to meet with you and do an on-site evaluation of what will be necessary for us to disassemble, remove your furniture and related items on the time table you require. From this on-site survey we will prepare a comprehensive evaluation that will be a written chronological proposal laying out all the services necessary for Time Moving & Storage to complete your project in the time period you request.
Time Moving & Storage provides economically priced solutions for the removal of unwanted furniture from your office. Corporate America is continuously downsizing or up-sizing. There is always the challenge of disposing your office furniture with a junk removal service in an environmentally friendly fashion. Unfortunately, unless your office furniture is relatively new, there is not much of a resale market. It is also very hard for some clean out services to recycle because they are not experienced enough. This is due to the fact that they don't know how to handle all the mixed materials in furniture. One piece of furniture may have treated wood, metal, and plastic. These materials have to be separated before they can be recycled.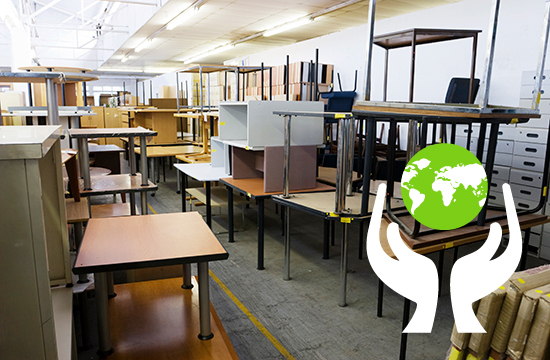 Time Moving & Storage has a solution that diverts your old and unwanted office furniture from a land fill to a comprehensive recycling process.
STEP 1: SORTING BY WASTE STREAM
All of your junk office furniture will be taken apart and separated by material type. ie metal, plastic, glass, wood etc.
The materials will be shredded, bailed and sent to the appropriate processing plant for re-use or sent to a waste energy plant.
Furniture items and what we do with them
If you have old furniture to get rid of or you need to clean out an office give Time Moving & Storage a call.
We can customize our services to meet your specific needs.
Call Time Moving & Storage today so we can assist you with your upcoming office move.
Time Moving & Storage will guarantee adequate manpower, equipment and storage space to perform all moving and storage services on an as needed basis.